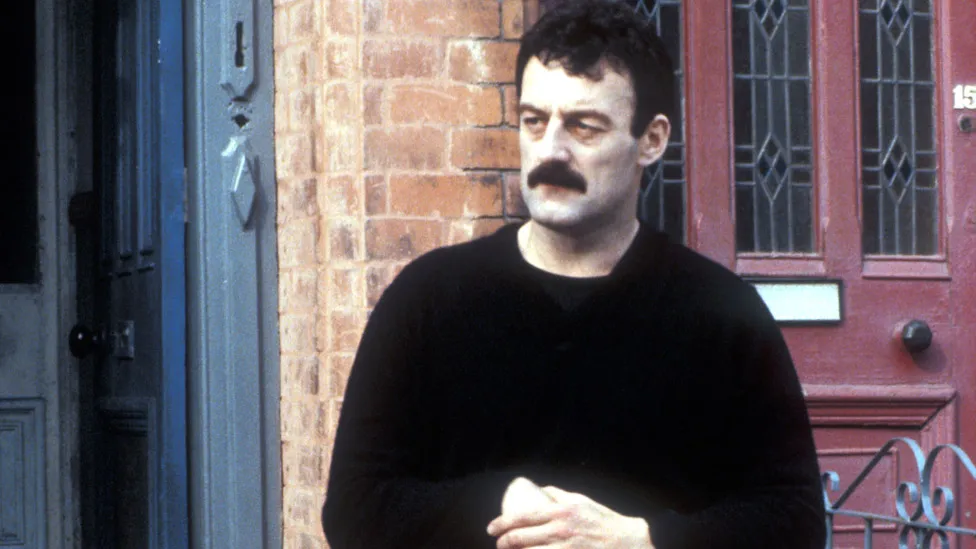 This drama consistently appears on lists of the greatest TV dramas ever created – now "Boys From the Blackstuff" is making its debut in Liverpool. Can this unyielding tale of unemployment still resonate with us in 2023?
A door swings open, and a group of cheerful actors and crew members emerge in the daylight, taking a break from their rehearsals.
Then, another figure appears at the door, dressed in a black t-shirt and black jacket, with dark hair and a signature black brush mustache.
His eyes, too, appear dark and vacant. Perhaps he is still in character. Perhaps it's just the aftermath of a rigorous morning rehearsal.
Whatever the case, he is unmistakable, extraordinary, and deeply unsettling.
The man silently extends his hand. I fully expect him to introduce himself with the words: "I'm Yosser Hughes. Gizza job," followed by a quick nod.
Yosser Hughes is one of the characters who struggled – and in Yosser's case, often failed – to survive amidst rampant unemployment and industrial decline in "Boys From the Blackstuff" in Liverpool.
He became one of the most intense and memorable characters in British TV history, with his image and catchphrase etched into the culture of 1980s Britain.
The show won a BAFTA for Best Drama Series in 1983 and, in 2000, ranked seventh on the British Film Institute's list of the best TV shows ever made.
On TV, Yosser was portrayed by Bernard Hill. For this stage adaptation, he is played by Hollyoaks and The Bay actor Barry Sloane, also known for his role as Captain Price in the Call of Duty game series.
'Highly Emotional' Yosser is about to "lose his mustache." A few minutes later, Sloane reappears, transformed without Yosser's lip slug and wearing an Oasis t-shirt.
The mustache is a recent addition for rehearsals. "I feel his swagger has increased today with the mustache," director Kate Wasserberg tells the actor. "It's really powerful. A powerful mustache."
"Just a bit of facial acting, huh?" Sloane smiles.
How does it feel to portray such a character? "It's genuinely enjoyable," Sloane replies, adding, "It's challenging. It's the kind of role that requires full support and full commitment, which makes me excited and proud to do it.
"This [performance] has significance. It makes me very emotional just to play it because it's so intense to be involved in this. What we're talking about is my father and grandfather's generation."
Sloane spent his childhood in Liverpool "in the thick of it," the issues portrayed by writer Alan Bleasdale on screen.
"Boys from the Blackstuff" follows five men who work on an asphalt crew before returning to their hometown and finding no work – except for illegal jobs that get them in trouble with the harsh welfare system.
Yosser is the most extreme of the bunch, seemingly on the brink of sanity. Bleasdale has spoken about basing him on a real man who once walked into a café and ordered six boiled eggs before proceeding to headbutt each plate one by one.
"He's really a mate, yeah," Sloane says. "There are a lot of Yosser Hugheses among us; let's not forget that."
Wasserberg describes Yosser as "the human wreckage of what happens when someone wholeheartedly embraces Thatcher's dream, and it betrays them."
"Boys From the Blackstuff" first aired in 1982, three years after Margaret Thatcher became Prime Minister, and is often seen as the most powerful depiction of the impact of her policies on Northern cities.
Playwright James Graham, renowned for TV dramas like "Sherwood," "Quiz," and "Brexit: The Uncivil War," as well as plays about Gareth Southgate and Rupert Murdoch, has adapted the series for the Royal Court Theatre in Liverpool, working closely with Bleasdale himself.
"A great deal of pain hit particular communities in the transition from the '70s to the '80s," says Graham. "Whether you agree with the necessity of it or not, that's not what this show is about. This show is about the human casualties of it."
In fact, Bleasdale wrote most of his scripts before Mrs. Thatcher came to power – the docks and factories had been closed throughout the '70s – but the show captured the shocking places Liverpool felt it was under her rule. Unemployment in the city peaked at over 20%, twice the national average, in the mid-'80s.