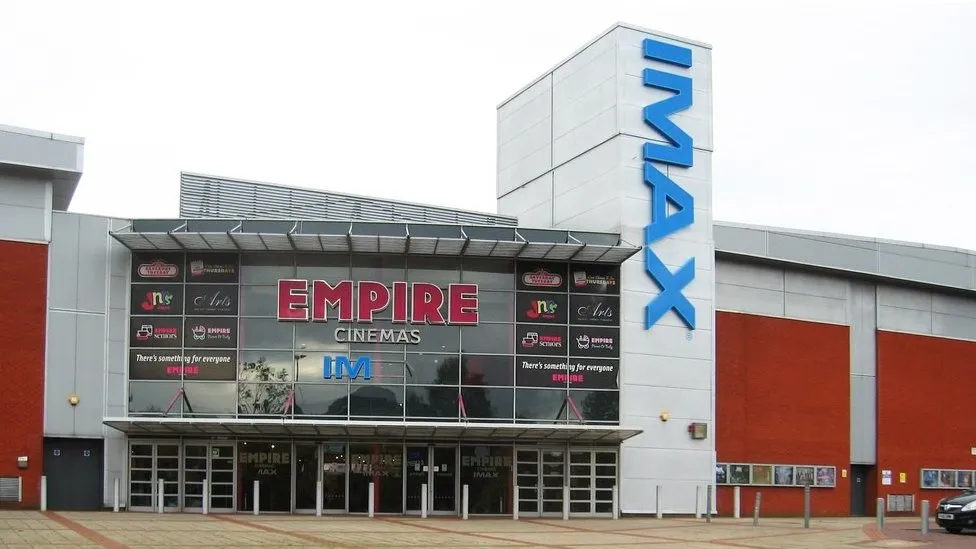 Empire Cinemas has collapsed into administration, resulting in the immediate loss of 150 jobs.
Six cinemas within the chain have been closed, with eight other cinemas under threat.
Administrator BDO stated that the impact of the Covid pandemic and the cost-of-living crisis has "significantly affected the company's business".
Last month, rival network Cineworld also fell into administration, being hit by the pandemic and competition from streaming services.
The closed Empire cinemas on Friday were located in Bishop's Stortford, Catterick Garrison, Sunderland, Swindon, Walthamstow, and Wigan.
These closures leave Sunderland and Wigan without a major cinema.
Meanwhile, the remaining sites in Birmingham, Clydebank, High Wycombe, Ipswich, and Sutton, as well as the two Tivoli-branded venues in Bath and Cheltenham, will continue to trade as the administrators seek buyers.
Staff reportedly showed up to work at the branches on Friday only to find notes in the window explaining that they would be closed, according to local media reports.
BDO stated that the cinemas employ a total of 437 staff across the UK and Scotland.
Gift cards, electronic ticket codes, guest tickets, and ticket vouchers will continue to be valid at operating cinema sites. Pre-purchased tickets for closed sites will be automatically refunded.
Cinema-goers have reacted to the closures on social media.
One person expressed regret upon hearing about the closure of the Sunderland branch, stating, "But when it's almost £5 for a regular coke, let alone the ever-changing ticket prices, I'm not surprised this complex has closed."
"It's not just Covid that caused this, it's when there's a cost-of-living crisis, people don't have money these days."
Empire Cinemas was established in 2005 following the merger of Odeon and UCI, as well as Cineworld and UGC.
The Office of Fair Trading decided that both of these new groups had to divest a number of their cinemas, creating an opportunity for the creation of Empire Cinemas.
Until the closure of the six cinemas on Friday, the network screened films on 129 screens, including IMAX and IMPACT screens.