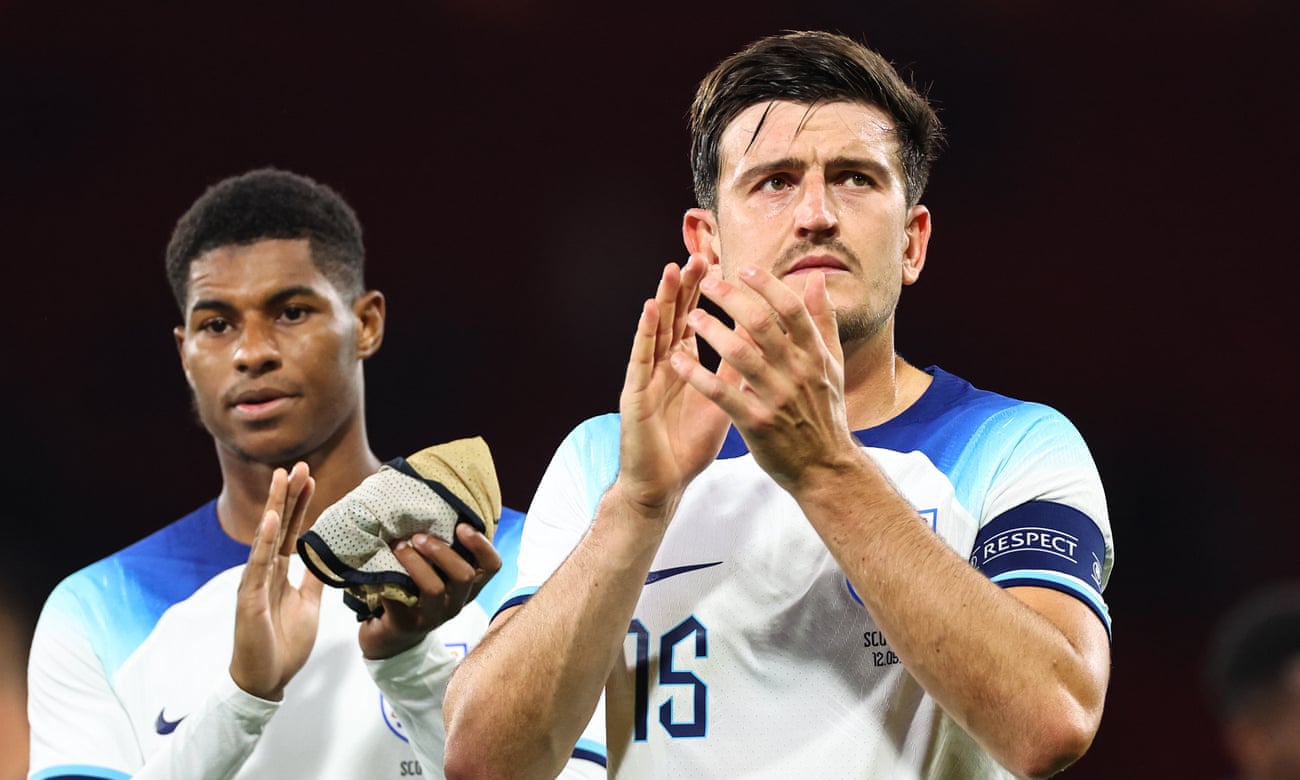 "Ican deal with it," Harry Maguire said. "We knew it would be hostile and in the second half I got most of it. I am happy to go with that, don't worry about that." And yet only the hardest heart did not worry for a footballer who has endured so much over the past two seasons and now finds himself buried under an avalanche of mockery at the beginning of a third.
The questions for Maguire were numerous after what he went through in England's 3-1 win against Scotland at Hampden Park on Tuesday night, a good result for the team but a harrowing ordeal for him. On as a half-time substitute, the Manchester United defender was ridiculed without mercy by the Scotland support whenever he got the ball, and the grisly nadir came when he stretched to divert a low cross into his own net for 2-1. Even the stadium announcer piled in, bellowing that the Scotland goal was an own goal … "by Harry Maguire!"
How has it come to this? Is there a way out? But, most pressingly how is Maguire coping? In an interview with newspaper journalists, he was stoic and defiant, which are practically his default settings these days.
"I would not say I am a person who struggles with pressure, mentally," he said. "I have been through a lot in the last couple of years and I have been Manchester United captain for nearly four years. You take a huge lot of responsibility and everything that comes with it and that is a lot of bad as well as good. But it was a huge honour."
There were flashes of dark humour. "Well … it pretty much takes the pressure away from my teammates and puts it all on myself. It makes them play better, for sure."
Maguire could not resist a few digs at his Hampden tormentors. There were times when the edge in his voice was clear. He mentioned how England had "dominated from start to finish", how he was "really pleased to represent my country and come to Scotland and beat them 3-1". He also said: "We knew coming here, when you hear the national anthem and the way they disrespect that …"
Gareth Southgate had warned his England players that the anthem would be drowned out by jeers and there is no doubt that when it happened, it acted as a spur. The manager said he watched Jude Bellingham as it played and noticed the young midfielder's focus harden.
"I'm looking at him stood in the line and I know what's coming," Southgate said. "That's the sort of thing that makes the difference, the mentality of the player." What came from Bellingham was a man‑of‑the‑match performance but it must absolutely be noted that England's travelling fans booed the Scottish anthem. They have plenty of form for doing this to other nations.
The biggest take-away from Maguire's interview was the sense of a man struggling to make sense of his treatment; who, despite the brave face, was hurting. There was one point when he said it was "a little bit of banter and it is a hostile environment, coming away to Scotland". Banter and hostility are different things; not, perhaps, to be conflated in the same sentence.
Southgate was fuming – not for the first time. When a section of the England support at Wembley booed Maguire during the Ivory Coast friendly in March 2022, he called their actions "an absolute joke". At Hampden he went further, saying he had "never known a player to be treated in this way" and blaming commentators and pundits in England. "They have created something that is beyond anything I have ever seen," he said.
Before that Ivory Coast game, Maguire had heard his substitution in United's Champions League exit against Atlético Madrid cheered by a section of the Old Trafford support; in April 2022, after United's 4-0 defeat at Liverpool, he received a bomb threat to his family home.
For Maguire, 2022-23 was the lost season; he started only eight Premier League games as he fell to fifth-choice in Erik ten Hag's central defensive pecking order behind Raphaël Varane, Lisandro Martínez, Luke Shaw and Victor Lindelöf. That has not changed this season. What has changed is the level of mockery from opposing supporters. When Maguire came on for the injured Martínez at Arsenal on the Sunday before last for his only action in a United shirt so far, the Emirates Stadium crowd cheered ironically, as they did his touches.
Maguire got through England's draw against Ukraine in Poland on Saturday unscathed, although it is probably fair to say that Ukrainian fans have more important things on their minds. Then came Hampden.
The weird thing is Maguire did not really get this treatment at the end of last season, so why was it suddenly so bad at Arsenal given he had done nothing in the interim? Perhaps that is a part of it. Maguire did nothing over the summer; in other words, he did not leave United. Stripped of the captaincy and ushered towards the door, the writing was on the wall. He did not read it. Why did he stay? "We just didn't come to an agreement [for a move] and they were happy for me to stay and I was happy to fight for my place," Maguire replied. "Every time I train or play, I will give everything."
Maguire insisted his own goal against Scotland was not down to ring rust. He talked about his gratitude towards Southgate, who has always backed him; the hardcore England fans, too, who chanted in support of him in Glasgow. But what next? Ten Hag is unlikely to start him against Brighton at Old Trafford on Saturday (Martínez is fit again), leaving Maguire to rely on hope.
"The first four weeks were hard because it was one game a week and the manager didn't select me but we have lots of games coming up now and I am sure I will play lots." The human punchbag staggers on.