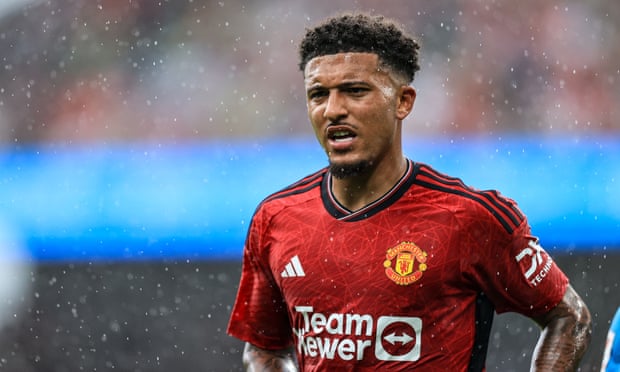 Jadon Sancho will train away from Manchester United's first team after refusing to apologise to Erik ten Hag for claiming that the manager was untruthful regarding his exclusion from the 3-1 loss at Arsenal on 3 September. The forward's stance throws his long-term future at the club into further doubt.
Sancho was not in the 20-player squad for the defeat, which was the last game before the international break. Asked why afterwards, Ten Hag claimed Sancho had not trained to the requisite standard to make the trip to north London.
Sancho immediately disputed this on social media, saying Ten Hag's explanation was "completely untrue" and subsequently pinning the post on X, formerly known as Twitter, at the top of his account until taking it down 10 days later. Yet despite doing so it is understood the 23-year-old would not countenance saying sorry to Ten Hag, which led to him training alone.
A club statement on Thursday said: "Jadon Sancho will remain on a personal training programme away from the first team group pending resolution of a squad discipline issue."
After the Arsenal game, Ten Hag said: "Jadon, on his performances in training we did not select him. You have to reach a level every day at Manchester United and we can make choices in the front line. So for this game he was not selected."
Sancho responded later that day with an explosive statement. He wrote: "Please don't believe everything you read! I will not allow people saying things that is completely untrue, I have conducted myself in training very well this week. I believe there are other reasons for this matter that I won't go into, I've been a scapegoat for a long time which isn't fair!"
United, who have claimed six points from their opening four Premier League games, return to action after the international break at home to Brighton on Saturday. The development means Sancho is almost certainly not available for the match.