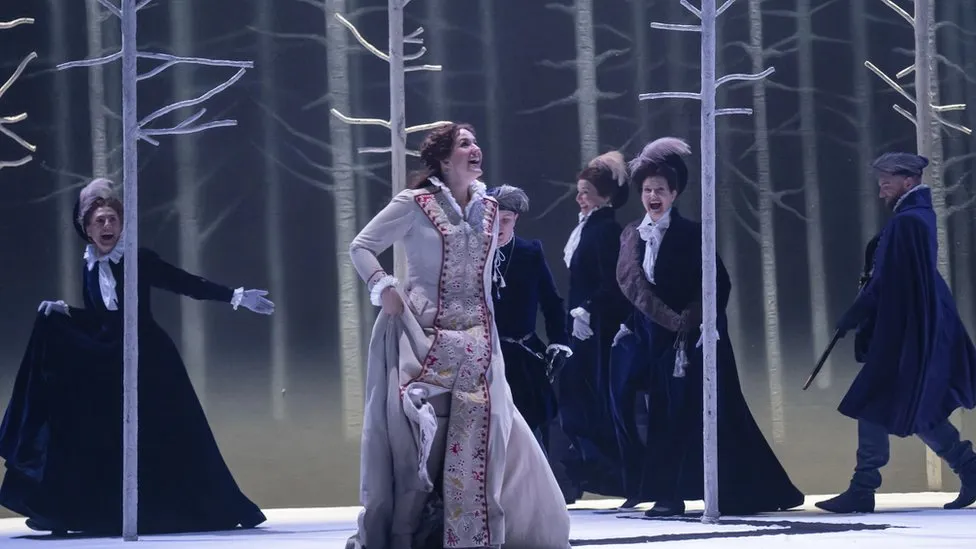 When Lise Davidsen took center stage at the Last Night of the Proms on Saturday, it was the culmination of a long-standing commitment.
As the world's most sought-after soprano singer, she was originally scheduled to perform at the concert last year but it was canceled when Queen Elizabeth II passed away.
She was in the middle of "practicing Rule, Britannia!" with the BBC Symphony Orchestra when the news came.
"You must have felt a bit disappointed," she said.
Canceling the concert was the "right decision," she added.
"For me, it felt like a memory of the first part of Covid. You really understand why this happened, but on the other hand, everyone feels this void because they were all so excited and focused."
Despite her packed concert schedule planned for the next four to five years, this Norwegian singer was able to accommodate her return to the Proms this year, where she would perform alongside star cellist Sheku Kanneh-Mason.
For many, this would be their first opportunity to see Davidsen, whose voice has been described by The New York Times as "so powerful and deep" that "you almost feel it as a physical presence – pressing your chest, making the hair on the back of your neck stand up."
Similarly, she had never experienced the vaudevillian atmosphere of the Last Night, with all its flamboyant costumes and communal singing.
"We don't have anything like this in Norway," said the singer, who prepared for her debut by watching old clips on YouTube.
"I'm looking forward to seeing the flags, I'm looking forward to seeing people wearing whatever they want to wear and feeling the joy of singing together."
"It's the closest thing I can do to being at a sporting event!"
Traditionally, soloists at the Last Night get involved in a circus-like atmosphere. In 2021, Australian tenor Stuart Skelton performed "Rule, Britannia!" dressed in full Australian cricket attire, while Sweden's Nina Stemme dressed as a Valkyrie in 2017.
Davidsen, a cool and calm figure standing almost six feet two inches tall, opted for something more refined.
"I won't entirely be a Norwegian, either as a troll or a Viking!" she laughed.
"I'll stick with what I like best. And that's a nice and good dress."
She may be one of the opera world's biggest new stars, but Davidsen had an unusual path to the international stage.
She was born in Stokke, Norway – a town with a population of over 11,000 – and didn't see her first opera until she was 20 years old.
Classical music was nearly nonexistent in her home. Her mother, who worked in a nursing home, and her father, an electrician, were more inclined towards sports. However, on car rides to handball games, the car stereo would play Eva Cassidy and Joni Mitchell, inspiring Davidsen to learn to play the guitar in her teenage years.
During Christmas, she would perform with the church choir, and eventually, a schoolteacher suggested she learn to sing as a soloist.
This led her to the Grieg Academy in Norway, where she earned a bachelor's degree in classical singing. And there, she saw her first opera, Richard Strauss's "Der Rosenkavalier."
Enthralled by the production, she initially dismissed the idea of pursuing opera ("it seemed impossible, as if I would suddenly start speaking Mandarin tomorrow," she once said).
Then, while pursuing a master's degree in Copenhagen, a teacher told her she had the potential to be an opera soprano.
It was a change that required her to abandon her previous mezzo-soprano repertoire and learn an entirely new vocal technique, but the rewards were almost instant.
In 2015, she was catapulted onto the international stage after winning consecutive awards at the Queen Sonja Competition and Operalia, and the world came calling: Glyndebourne, the Royal Opera House, Bayreuth, the Berlin Opera, the Met, the Proms.
Does she think her late arrival to opera helped her stand out?
"Yes and no," she said cautiously.
"I always thought that my colleagues, who grew up with classical music, have a broader view of what has been recorded and what has been done – and therefore you might make different choices.
"But I think maybe it helped my approach, in terms of singing – because I sang based on the fact that I really enjoyed it, and I wanted to get better, and I've never had my mother, who was close to me, say, 'you need to practice, you need to practice'."
When Covid struck in 2020, she sang Leonore in "Fidelio" at the Royal Opera House. Davidsen caught the virus during rehearsals, before anyone knew what the virus was.
Initially, she thought her sudden lack of energy was due to fatigue, and she was somewhat relieved when the diagnosis was made.
But a second bout of the illness last winter posed a serious threat to her career.
"I lost my voice completely for three weeks," she said.