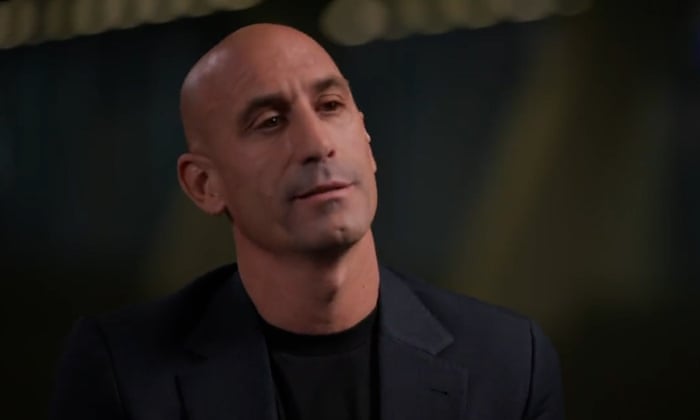 Luis Rubiales has resigned as the head of Spain's football federation almost a month after he grabbed and kissed the midfielder Jenni Hermoso during the celebrations of the country's victory in the Women's World Cup, sparking fury, incredulity and a national and international debate on sexism.
Rubiales had initially attempted to brush off the controversy over the unsolicited kiss after the team's 1-0 victory over England in Sydney. He dismissed critics of his actions as "idiots and stupid people" as the incident provoked global outrage, led to his being provisionally suspended by Fifa, and prompted Hermoso to make a criminal complaint accusing him of sexual assault.
On Sunday night Piers Morgan released a clip from a TalkTV interview due to be aired on Tuesday in which Rubiales told him that he would step down.
He said: "I cannot continue my work. My father, my daughters, I spoke with them.
"They know it is not a question about me, some friends very close to me, and they say to me: Luis, now you have to focus on your dignity and to continue your life. Probably you are going to damage people you love."
Later Rubiales released a defiant statement, announcing that he had decided to step down as the president of the Royal Spanish Football Federation and as a Uefa vice-president.
"After the rapid suspension by Fifa, and the rest of the proceedings against me, it's clear that I cannot return to my post," he said.
"Trying to hang on in hope of clinging on won't result in anything positive for either the federation or Spanish football."
The 46-year-old former player also suggested "the powers that be would get in the way of my return", adding: "I don't want Spanish football to be damaged because of a campaign as disproportionate as this one." He said he had decided to quit because he believed his departure would help bring stability to Spain, Portugal and Morocco's joint bid to host the 2030 World Cup.
Rubiales said he planned to clear his name.
"I believe in the truth and I will do everything in my power to make sure it prevails." He said that although his family and those close him had been made to suffer "the effects of an excessive persecution" and "many lies", he felt the public knew the truth.
After the initial outcry his mother went on hunger strike in his name. Ángeles Béjar had locked herself in a church in her home town of Motril, southern Spain, for several days to protest against the treatment of her son.
Pressure on Rubiales had intensified on Wednesday after Hermoso filed a criminal complaint against him. The prosecutor's office said that Hermoso's testimony, given one day earlier, would be processed "as soon as possible". Under a recently passed sexual consent law, Rubiales could face a fine or between one and four years in prison if found guilty of sexual assault, it added.
In a statement published five days after the incident, Hermoso said the incident had left her feeling "vulnerable and a victim of aggression". She described the kiss as an "impulsive act, sexist, out of place and without any type of consent from my part".
Her statement had followed days of uproar during which Rubiales rounded on his critics before offering an apology widely seen as half hearted. He later sought to portray the kiss as consensual.
Soon after, Rubiales was provisionally suspended by Fifa and ordered to refrain from contact with Hermoso and those close to her. Days later, amid mounting outrage over the kiss – as well as Rubiales grabbing his crotch while standing next to Queen Letizia of Spain and her 16-year-old daughter, Infanta Sofía as La Roja won the World Cup – the federation demanded that he resign.
It also sacked the Spanish coach, Jorge Vilda, who was one of many officials who had applauded a defiant speech Rubiales made to the federation in which he said "I will not resign" five times and hit out at "false feminism" while also seeking to portray himself as a victim and recast the kiss as "a peck".
The episode made headlines around the world and led to a global debate about sexism and abuses of power. In an interview with the Guardian at the beginning of September, Spain's acting equality minister said Rubiales's unwanted kissing of Hermoso was just one instance of the abuse suffered by millions of women around the world.
Irene Montero described the incident as a "lower-intensity" form of sexual violence that is often invisible and normalised in society.
"This is something suffered by millions of women in Spain and around the world. Unfortunately, these forms of sexual violence, these lower-intensity types of violence such as nonconsensual kisses, touching on public transport or sexual harassment, are usually invisible and very normalised," said the acting minister.
Montero greeted the news of Rubiales's resignation with a two-word tweet: "Se acabó [It's over]." Her brief message was a reference to the #SeAcabó hashtag that had been used in the aftermath of the kiss and hailed as Spain's #MeToo moment.
There was little immediate reaction from Spain's footballers, from either the women's or men's sides. Gary Lineker, the former England footballer turned BBC broadcaster who played in Spain for three years contrasted Rubiales' initial pleas that he would not resign with his final outcome in a tweet in Spanish. "Voy a dimitir," he said. "I will resign."