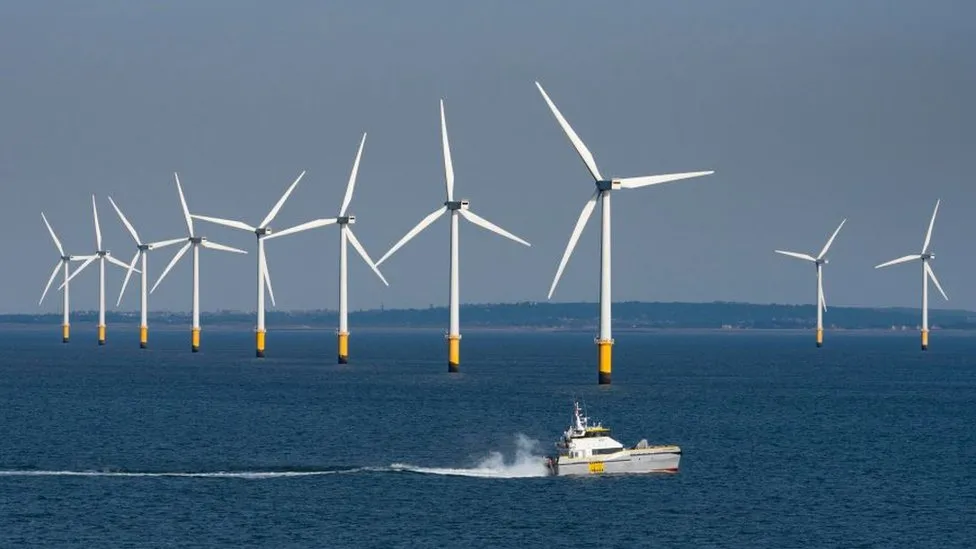 No new contracts for offshore wind power generation projects were purchased by developers in the government's latest major auction, dealing a blow to the UK's renewable energy strategy.
The results indicate that there were no bids for new offshore wind power generation projects, but agreements were made for solar, tidal, and onshore wind power projects.
Companies argue that the prices set for the electricity generated are too low to make offshore wind power generation projects feasible.
The government cited "global inflationary increases" impacting supply chains as having "posed challenges to projects."
It was mentioned that although offshore and floating wind power projects were not included in the agreements, the results were "in line with similar outcomes in countries such as Germany and Spain."
The Department for Energy and Net Zero Security stated that a "significant number" of solar, onshore wind, tidal energy schemes, and for the first time, geothermal projects that use heat from the earth to generate electricity, received funding.
However, the absence of offshore wind power generation will be a setback to the pledge to achieve 50 gigawatts (GW) of offshore wind power generation by 2030, compared to the current 14 GW.
Renewable energy groups argue that alternative renewable projects, such as solar power, cannot produce the same scale of energy as offshore wind.
This technology is described as the "crown jewel" of the UK's renewable energy sector, but companies are affected by higher costs for building offshore farms, with materials like steel and labor becoming more expensive.
The UK is a world leader in offshore wind power generation and is home to the world's four largest farms, which support tens of thousands of jobs and provided 13.8% of the UK's electricity last year, according to government statistics.
The government's annual auctions invite companies to submit bids to develop renewable energy projects and contracts to supply electricity to the UK grid. This scheme ensures that projects receive a government-guaranteed price for the electricity they generate, giving companies the confidence to invest.
The agreement, known as the Contract for Difference (CFD), means that if the electricity price is above the agreed-upon price, companies will pay the excess to the energy supplier, which will help reduce bills. If the price falls below the guaranteed price, the energy supplier – and customers – will pay the difference to the company.
Offshore wind power generation is expected to help produce up to five gigawatts of electricity, enough to power five million homes, but wind power developers have warned for months that the government has not accounted for the skyrocketing development costs of offshore wind power.
Insiders in the industry have told the BBC that the base price of £44 per megawatt-hour set for the latest auction failed to consider the higher costs involved.