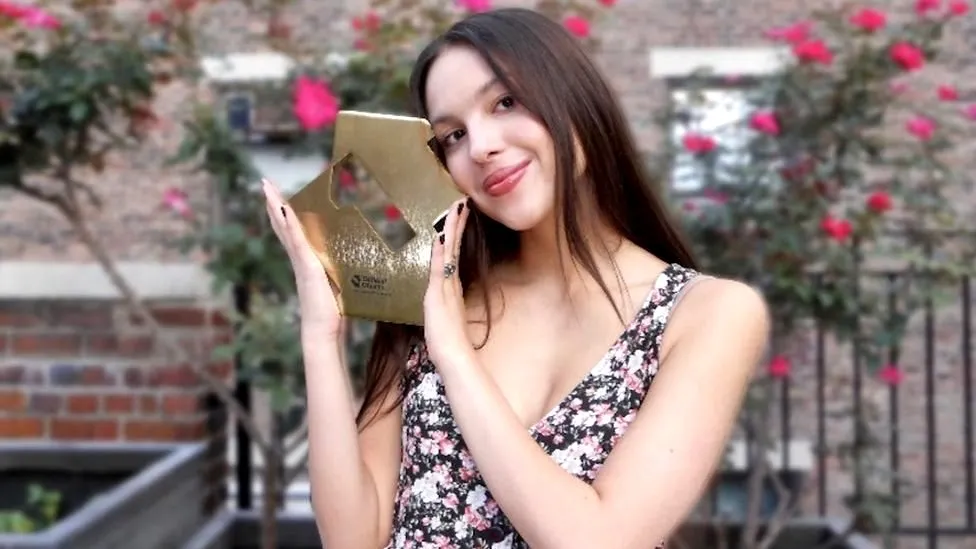 Pop sensation Olivia Rodrigo has claimed the top spot on the UK album chart with her highly-anticipated second album, "Guts."
Featuring hit singles "Vampire" and "Bad Idea," the album's sales have exceeded those of the next top 10 albums combined, making it the most-played album in the past seven days.
This marks the second time the 20-year-old artist has reached the summit of the UK album charts, following her success with "Sour" in 2021.
Rodrigo told BBC News that she struggled with the follow-up, stating, "I'd be writing lyrics and thinking about people on Twitter dissecting them."
She continued, "It was tough. It's the opposite of creativity. So I had to shift my mindset in the middle of the recording process, just trying to make songs I want to hear on the radio. As I did that, it started to become much more fun and felt creative again."
The reset button seems to have worked. In addition to topping the album charts, "Guts" has received critical acclaim, with a score of 90/100 on the review aggregation site Metacritic.
Rolling Stone magazine called it "another instant classic, with its most ambitious, intimate, and messy songs," while Pitchfork described the 12-track collection as a "riotous" mix of "bad-girl anthems and soul-searching ballads."
Fans who purchased vinyl copies of the album were also surprised to discover a hidden 13th track within the records. Each color variant of the album contains one of four "hidden" songs not available on music streaming services.
In a clever marketing move, all four variants could be purchased as a bundle on Rodrigo's website—with each copy counted as a separate sale on the charts.
According to the Official Charts Company, "Guts" gathered 60,300 chart "units," a figure that combines physical sales with streaming numbers, over the past week. This is nearly 10,000 more than "Sour," which moved 51,000 chart units in its first week.
The album's success is also reflected on the singles chart, where Rodrigo has three songs in the top 10.
"Vampire," a former chart-topper, sits at number two, "Bad Idea" is at number three, and the revenge-themed "Get Her Back!" is a new entry at number seven.
However, Rodrigo faced competition from fellow American star Doja Cat, who spent a second week at number one on the singles chart with the aggressive rap single "Paint The Town Red."
In the album charts, hip-hop alchemist Travis Scott held steady at number two with his fourth album, "Utopia."
Liverpool indie band The Coral made the highest new entry at number three with "Sea Of Mirrors," followed by The Weeknd's greatest hits compilation, "The Highlights," which has become a semi-permanent fixture on the charts, spending 81 weeks in the top 10.
Former Moloko singer Róisín Murphy rounded out the top five with her latest solo release, "Hit Parade," marking her fourth solo album to enter the top 40.
An experimental and eccentric pop record, it has been praised as "highly sophisticated" and a "contender for album of the year" by music critics. However, its release was overshadowed by Murphy's comments on gender politics.
Last month, the singer expressed her opposition to puberty blockers in a personal Facebook post, condemning the drugs as "big pharma laughing all the way to the bank" and adding, "Little kids are vulnerable and need protecting."
Puberty blockers are used to "pause puberty" by suppressing hormone release and can be used to delay physical changes that do not align with a child's gender identity.
Murphy's comments were met with disappointment by many in her LGBTQ+ fan base, who found the remarks to be anti-trans.
In response, the 50-year-old issued a lengthy statement, saying, "I cannot apologize enough for being the reason for this media firestorm that is damaging and potentially dangerous."
However, she did not retract her original comments, only pledging to "withdraw from this conversation."
Amid the social media frenzy, two of her album launch events were canceled, though alternative performances were later scheduled.
The BBC was also accused of blacklisting her music, with a series of late-night reruns on BBC 6 Music replaced with programming featuring rapper Little Simz.
The corporation denied these claims, stating that the switch was made because Little Simz represented 6 Music's season celebrating poetry, rap, and spoken word, and it was set to air the following week, coinciding with National Poetry Day.
A statement read, "There was no other reason for the change. Róisín Murphy has been played on 6 Music recently, and her Artist Collection remains in rotation."
Data analysis of plays in the past seven days showed that BBC radio stations did not broadcast any tracks from Murphy's new album. However, there were still airings of her collaborations with Jessie Ware, "Freak Me Now," and the Moloko classic "Sing It Back."