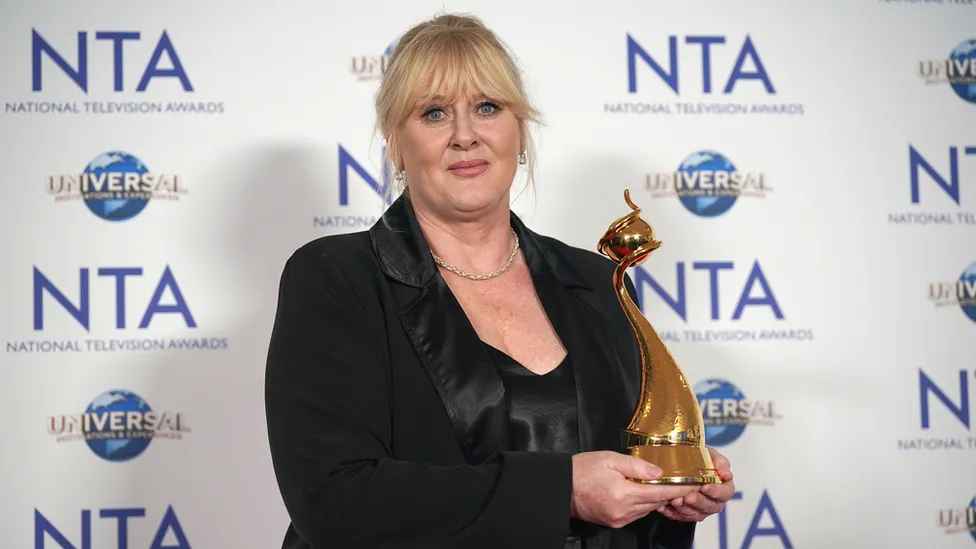 Actress Sarah Lancashire has revealed she experienced the "worst menopause" and as a result suffered from brain fog.
The star of the BBC crime drama Happy Valley said she battled hot flashes at the National TV Awards (NTA) last week.
She told the Mail on Sunday that she needed two fans "permanently in my face" to cool down during the ceremony.
Lancashire, 58, played Sergeant Catherine Cawood in Happy Valley.
The actress won the award for Best Drama Performance at the NTA and also received a special recognition award this year, presented by Sir Ian McKellen.
Speaking about brain fog, she described a recent shopping trip where she forgot what she wanted to buy.
"I was in Sainsbury's a few days ago, and I found myself just standing in an aisle and couldn't remember what I was there for," she said.
"It just comes upon you suddenly. I also can't remember things that happened 30 years ago."
Lancashire said she tried to conceal her cooling methods at the O2 Arena during the NTA.
"I brought one of my closest friends, and her job was to keep an eye on the cameras, and if it looked like they were coming in our direction, then she would tell me so I could hide (from the fans)," she said.
Lancashire said she has been using hormone replacement therapy (HRT) to help manage her menopause symptoms.
"I'm on a gel at the moment, but it's not working for me, so I might try the patch next," she said.
The actress has previously spoken about her struggles with depression.
In 2016, Lancashire told the Daily Mail that she had gone through ups and downs, and her twenties were a "wipeout."
"In my early days, depression hindered me because I was too weak and scared to tell anyone why I couldn't get on the train from Manchester to audition in London," she said.
"I was absolutely convinced I would lose my job if I admitted it."