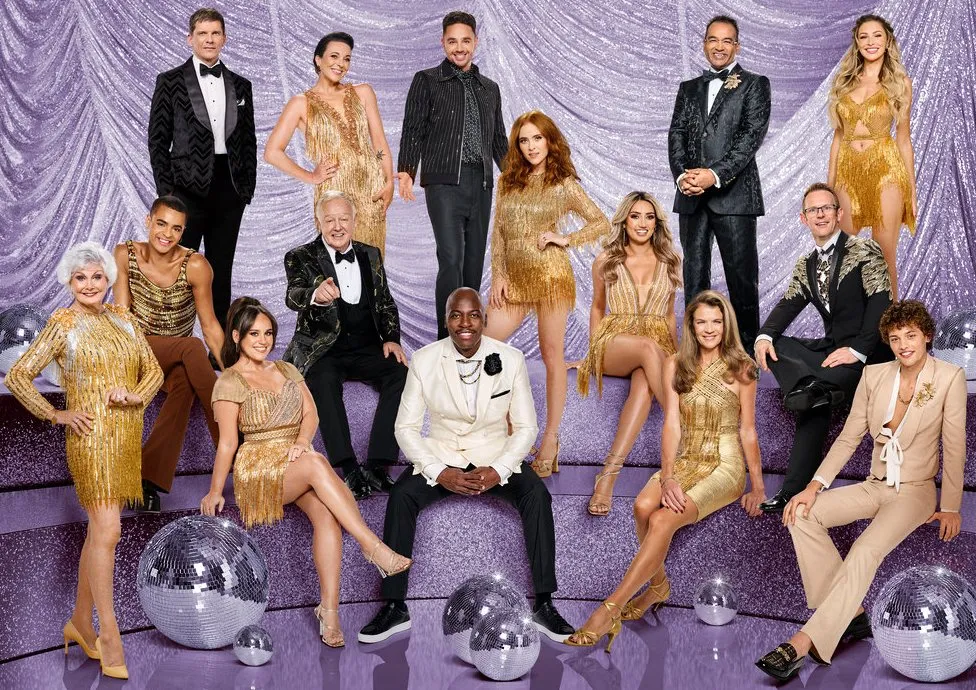 It may not feel like it, with the recent heatwave across much of the UK, but – if you listen closely – you can hear the rustle of satin and sequins heralding the arrival of autumn.
Yes, Strictly Come Dancing is back on our screens in a matter of days, with 15 celebrities teaming up with professionals to learn new moves, get spray tanned and hit the dance floor.
The action kicks off on Saturday (September 16) when viewers will find out who is dancing with whom during the launch event.
But for now, find out all the backstage gossip from this year's stars – from Adam to Zara – as they take a break from rehearsals to reveal their secrets.
Adam Thomas was worried Craig would make him cry
The Emmerdale star said her children (aged nine and five) were very excited and had taught her some moves, but added: "They know I can't dance."
His actor brothers – twin Scott and brother Ryan – "just laughed" when they found out he was on Strictly. But, he noted: "That's why we're here, to learn to dance. Everyone wants to see progress through the series, and I'm definitely going to give them that."
He said he was sensitive, adding: "If Craig [Revel Horwood] said one bad word about me, I think I might cry."
But who does he really want to impress? "My wife, I was just trying to impress my wife."
Amanda Abbington goes blind
Actress Amanda, who has appeared in TV series including Sherlock and Mr Selfridge, said taking part in Strictly felt like "going blind".
"You suddenly realize that you need an element of physical fitness that I've never seen before," he said. "It's brutal, but good."
Having been in the public eye more often because of the show, she said: "You can control how much you want to give away. My ex-partner [actor Martin Freeman] and I never put our kids out there until they were old enough to where they wanted to be. .
"I think you can set it up yourself, and see how much you want to let people in. But this really throws you off which I think is really funny."
Angela Rippon says dancing makes you live longer
The former Come Dancing host and Rip-Off Britain presenter will turn 79 later this month and is the oldest contestant on the show – something he says he "wears like a badge of honour".
"We're an aging population and I think if we can get the message out that dance is great – even if you're in your 20s and 30s, think ahead to when you're going to be old – and the number of people who are going to dance. now dancing in the 60s and 70s, 80s and 90s is an extraordinary thing."
He added: "If you want a long life – dance!"
Angela Scanlon is collecting sequins
The Irish TV presenter said he was looking forward to dancing the Charleston – but admitted there were already some dances he was dreading. "Anything that involves that level of physicality… I'm not good at trampolines – I have an 18-month-old."
As for the Rumba? "I mean, it strikes a little bit of fear in me because it's so slow," said Angela, who did Irish dancing as a child. "From watching it, I don't think you'll get much out of it. You can't dazzle them with silly hats."
Of her daughters, Angela said: "My babies don't know of course, but my eldest is five and she's very excited.
"We've made a box and we're going to take home sequins and whatever hangs from the ceiling so she has a little stash. Hopefully she'll like it."
Annabel Croft feels she has been matched with Roger Federer
The presenter and former tennis player said he did Strictly for the "fun and learning new moves".
"I can't do it – but I think it's an amazing opportunity," he said. "It was like being told that you might be paired with Roger Federer, to be paired with these incredible dancers, it was very special.
"And the music, it was very emotional. I think the fact that they had a live band there… the music gave goosebumps."