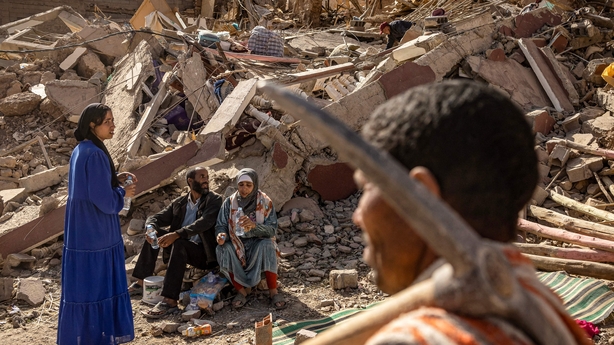 Rescue teams are engaged in a critical race against the clock to extract survivors from the wreckage of Moroccan villages in the Atlas Mountains, following the country's most powerful earthquake ever recorded, which struck three days ago.
The interior ministry has reported a grim toll, with the death count now at 2,497 from the 6.8-magnitude earthquake that hit southwest of Marrakesh late on a Friday. Search and rescue operations are still ongoing, with another 2,476 individuals suffering injuries, marking an increase from previous figures of 2,122 fatalities and 2,400 wounded.
Yesterday, the government announced that it had accepted aid offers from four foreign nations, and numerous others have expressed their willingness to provide assistance.
Spain, Britain, Qatar, and the United Arab Emirates have received a favorable response from Moroccan authorities to send search and rescue teams. The foreign teams are currently in coordination with local authorities. However, only these four offers have been accepted thus far to ensure efficient coordination.
Additional offers may be considered in the future as the situation evolves, according to the interior ministry. French President Emmanuel Macron has expressed France's readiness to assist as soon as Morocco requests it.
A Qatari aid flight departed from Al-Udeid air base outside Doha yesterday evening to provide support.
Spain has already dispatched 86 rescuers and eight search dogs to Morocco with the aim of aiding in the search and rescue efforts. Spanish Defence Minister Margarita Robles emphasized the importance of these initial hours in saving lives, especially for those trapped under debris.
The earthquake has caused widespread devastation in the Atlas mountain range, obliterating entire villages, particularly those constructed with mud bricks. Tafeghaghte, a remote village 60 kilometers from Marrakesh, was nearly entirely demolished, with very few structures remaining intact. Heartbroken residents like Zahra Benbrik, who lost 18 relatives, are grappling with the tragic aftermath.
Al-Haouz province alone has recorded over 1,300 deaths, and Moroccan public television reports that the quake has affected more than 18,000 families in its epicenter area.
The education ministry has announced the suspension of classes in the hardest-hit villages of Al-Haouz, with schools remaining closed today.
Citizens in Marrakesh have rushed to hospitals to donate blood for the injured, and many have volunteered to assist those affected.
Marrakesh's historic medina and its network of alleyways have also sustained significant damage, with heaps of rubble and collapsed buildings. The kingdom has declared a three-day period of national mourning.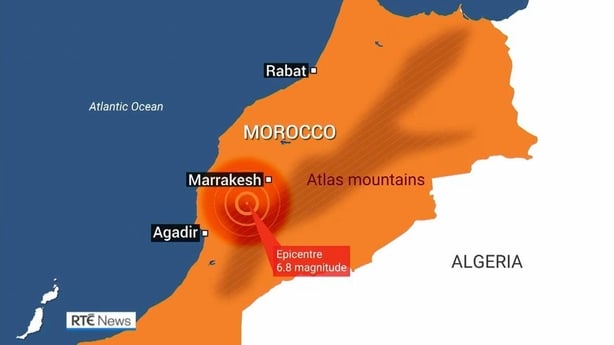 The Red Cross warns that the recovery process may extend over months, if not years, to address the extensive damage caused by the earthquake.
This earthquake stands as Morocco's deadliest since the 1960 Agadir earthquake, which claimed the lives of more than 12,000 people.
In a show of international solidarity, the Embassy of the Kingdom of Morocco is now accepting donations from individuals and organizations looking to aid the country in coping with the aftermath of this devastating earthquake. They have opened a dedicated bank account at Bank Al-Maghrib to receive voluntary contributions from citizens, as well as private and public institutions. The embassy expressed deep gratitude for the outpouring of sympathy and support received from Ireland and beyond during this challenging time.